VAG Specialists in Bradford
A fast, Reliable and Quality Service, Our Technicians have extensive Knowledge and experience with Audi,Volkswagen, Seat and Skoda.
Component Protection Removal
Ecu Reprogramming and updates
Gearbox Coding & Programming
Welcome To Cartech Uk Bradford VAG Services
At Cartech Uk we have dealer level tools to carry out diagnostics, coding,programming and updates on your Audi, Volkswagen, Seat or Skoda.
Our technicians can upgrade your vehicle by retrofitting genuine parts saving you alot of money. This service includes headlights upgrades halogen to xenon or led headlights and taillights. Cruise control retrofit, AID virtual cockpits, instrument clusters,infotainment systems, MIB MIB1 MIB2 Acc radars and much more
Audi VW Seat Skoda Component Protection 
Purchased a used part for your VW, Skoda, Seat or Audi vehicle ?
If so then you may have discovered that the replacement module cannot be adapted to your car and will not work because it will have component protection activated.
As an anti theft protocol, most new VAG vehicles  have electronic modules including  gearboxes dsg, cvt, Instrument clusters, media units, heating controls acc, sat navs, mib, mib1,mib2,amplifiers all etc have in built component protection.
Your replacement part will need to be programmed online using specialist vag dealer equipment and usually the main dealers will refuse to do this on used parts and will insist you purchase a brand new replacement parts off them.
We have specialist diagnostic equipment that can remove the component protection limitations. We offer a full component protection removal service in Bradford.
We also offer ecu programming and repairs on VAG vehicles. If your vehicle needs any type of electronic module replacing and programming our technicians can do this.
If you are experiencing problems with a Automatic, DSG CVT gearbox we can do software updates, Basic settings, repairs, cloning, flashing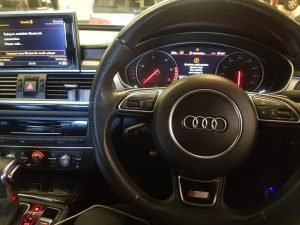 VAG DSG, CVT Cloning and programming
AUDI VOLKSWAGEN SEAT SKODA
DQ200 (0AM)

DQ250C (02E)

DQ250E / F (02E)

DQ200MQB / G2 (0CW)

DQ250MQB (0D9)

VL300 / V30 (01J / 0AN)

VL381 (0AW)

DL501 / G2 (0B5)

DQ500 (0BH / 0BT)
VAG Component protection removal service
Component protection Removal on Audi Volkswagen seat and skoda
Retrofitting service on all VAG group of vehicles, VW Golf MK7 Digital cockpits, Rear view camera installs, infotainment upgrades, sat nav, app connect,bluetooth installs, component protection removal, mileage correction service, ecu programming, key programming , video in motion and much much more